Today is another edition of Shopping Around the World with our pal Bacon from Pig Love. From Bacons blog:
Me and my pal
Fozzie
will be holding another Shopping Around the World scheduled for
Friday, January 27th.
Do a p
osting on your blog linking back to mine. That way we can keep track of all of the different prices and recipes from all over the world.
This month we are highlighting items that you are known for. Do you have that one dish that everyone asks for at a party, at dinner, at the church? What kind of ingredients do you have in it and what does it look like? Don't forget to include prices and pictures if you can.
Mom loves to bring Deviled Eggs to parties....it's something she knows she can eat and everybody seems to enjoy them. Here's her recipe for Deviled Eggs with Cheddar and BACON!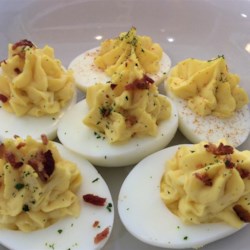 Place eggs in a saucepan, and cover with cold water. Bring water to a boil and immediately remove from heat. Cover, and let eggs stand in hot water for 10 to 12 minutes. Remove from hot water, and cool. To cool more quickly, rinse eggs under cold running water.

Meanwhile, place bacon in a large, deep skillet. Cook over medium-high heat until evenly brown. Alternatively, wrap bacon in paper towels and cook in the microwave for about 1 minute per slice. Crumble and set aside.

Peel the hard-cooked eggs, and cut in half lengthwise. Remove yolks to a small bowl. Mash egg yolks with mayonnaise, crumbled bacon and cheese. Stir in mustard. Fill egg white halves with the yolk mixture and refrigerate until serving.
Mayo - $3.65 for 30 oz jar
Bacon - BOGO 2lb for $7.99 or $3.99/lb
Shredded cheddar - $2.50 for 8 ounces
We're also pawticipating in Friendly Fill-ins sponsored by
McGuffy's Reader
and
15 and Meowing
.
Once again, we are all answering this week. First is Mom, next is Raz, then Allie and, finally, Ellie
1. I have seen _
_CATS_
__________ on Broadway.
2. My Chinese zodiac sign is __
_The Black Water Dragon (sounds skeery to me!
)______
3. Celebrities
don't phase me.....I only have eyes for Mauricio
.
4. A
purrfect
day is
one filled with naps, treats and sun puddles
.